The Blacklocks Motorcycles service department is well known for their excellence in customer satisfaction and their ability to fix your motorcycle, ATV or side-by-side, offering the highest level of quality service and repairs.
We offer servicing for all makes and models and we can carry out the best quality service for a competitive price. Our service department caters for Aprilia, BMW Motorrad, Honda, Indian Motorcycle, Moto Guzzi, Vespa and many other brands.
Your complete satisfaction is our goal with a 10 out of 10 servicing experience for you and your motorcycle, ATV or side-by-side. Our service department staff form a very friendly team who will ensure they fully understand your needs. Your satisfaction with every service is our commitment to you here at Blacklocks Motorcycles, open 8am to 5pm Monday to Friday, and 9am to 12pm Saturdays.
We offer first-rate motorcycle repairs and original equipment manufacturer (OEM) parts for all your service and maintenance needs. Our factory-trained and certified repair technicians are here to provide superior service in a timely manner. We keep an extensive stock of OEM parts and genuine accessories for your motorcycle, ATV or side-by-side.
When you bring in your motorcycle to Blacklocks Motorcycles, we start a customer service connection that lasts the life of your motorcycling life and beyond. You can rest assured knowing Blacklocks Motorcycles will take care of your pride and joy and get you back on the road again. Call or visit Blacklocks Motorcycles today.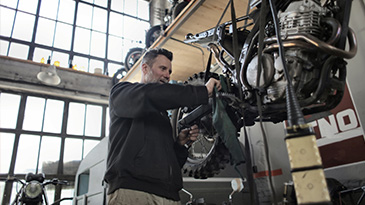 Factory Trained Technicians
Our service centre prides itself on offering exemplary servicing expertise for your vehicle. Our fully trained, qualified service technicians undergo rigorous manufacturer factory training to ensure they understand every aspect of your motorcycle and how best to keep it in optimum condition.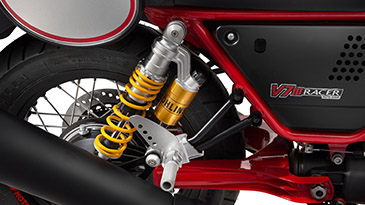 Genuine Parts
At Blacklocks Motorcycles we only use high quality genuine parts. Manufacturer approved genuine parts are the best way to ensure your motorcycle, ATV or side-by-side is maintained to peak operating performance or repaired as close to its original condition as possible.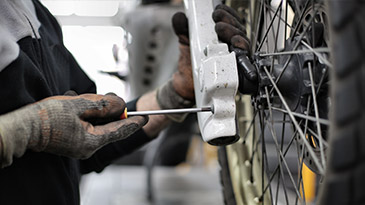 Specialist Tools & Diagnostics
Blacklocks Motorcycles service technicians utilise factory diagnostic equipment and specialist tools for all motorcycle, ATV or side-by-side servicing to maintain your vehicles optimum condition and identify any potential problems or worn components, before they become major safety concerns or turn into costly repairs.